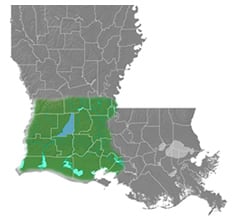 Welcome to the American Society of Civil Engineers - Acadiana Branch website. The Acadiana Branch was established in 1982 to serve ASCE Louisiana Section members in central and southwest Louisiana, also known as the "The Crossroads" and "Cajun Country," respectively. These and the surrounding areas have been collectively recognized by the state legislature as the Acadiana region. Together with other members of the Louisiana Section, we advocate ASCE's mission by serving as a liaison between civil engineering university students and the professional community, through community involvement, and through sponsorship of continuing education seminars.
Announcements
ASCE - Acadiana Branch - PDH Opportunity at Walk-On's in Lafayette
The Acadiana Branch is pleased to invite you to join us for a dinner PDH session sponsored by Thompson Pipe Group. An informative presentation will be given on concrete pressure pipe. This event is free to members of the Branch.
Click on the link below to register or RSVP.
ASCE - Acadiana Branch October 2019 Joint Luncheon
The ASCE Acadiana Branch is pleased to invite you to join us for a joint networking luncheon with the local chapter of LES. This luncheon will consist of presentations from Lafayette City-Parish Mayor-President runoff candidates, Josh Guillory and Carlee Alm-Labar. This event will be worth 1 PDH. Guests and students are welcome.
Click on the link below to register or RSVP.
If you have already registered for this event through LES, please do not also register through ASCE.
ASCE Acadiana Social Event (Rhythm's on the River)
ASCE invites you to join us for a pre Rythm's on the River social gathering at
Royal Engineers & Consultants in Lafayette (1231 Camellia Boulevard). This
social will be held on the evening of Thursday, October 24th, from 5:00 to 6:00
pm. Complimentary food and beverages will be provided by the Branch.
Rythm's on the River is scheduled to begin at 5:30 for those who would like to
walk over to River Ranch's Town Square and enjoy some live music.