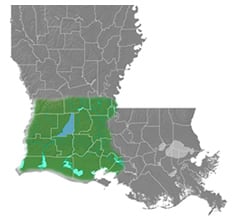 Welcome to the American Society of Civil Engineers - Acadiana Branch website. The Acadiana Branch was established in 1982 to serve ASCE Louisiana Section members in central and southwest Louisiana, also known as the "The Crossroads" and "Cajun Country," respectively. These and the surrounding areas have been collectively recognized by the state legislature as the Acadiana region. Together with other members of the Louisiana Section, we advocate ASCE's mission by serving as a liaison between civil engineering university students and the professional community, through community involvement, and through sponsorship of continuing education seminars.
Announcements
2019-2020 Sponsorship Renewal
Sponsorship renewal is now open. To become a sponsor, or to renew, please click here.
ASCE - Acadiana Branch Fundraising Golf Tournament
The Acadiana Branch of ASCE invites you to participate in a fundraising golf tournament. The tournament will take place on Friday, August 9th, 2019, at Les Vieux Chenes Golf Course in Lafayette. Proceeds from the tournament will be dedicated towards UL Lafayette and McNeese student scholarships, as well as the Louisiana Section Spring Conference, which will be hosted by the Acadiana Branch in 2020.
Click on the link below to register or RSVP
Register Now!
ASCE - Acadiana Branch June 2019 Meeting
The ASCE Acadiana Branch is pleased to invite you to join us for a meeting for the month of June. Branch officers for the 2019-2020 term will be nominated and elected at this meeting. Additionally, a presentation will be given by Mr. Eric McClanahan with Braun Intertec worth 1 PDH.
This luncheon is fully sponsored by Braun Intertec, and admission is free.
Click on the link below to register or RSVP.
Register Now!