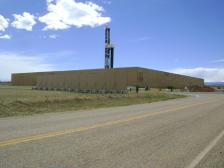 Topic: Panel Discussion on OIl and Gas Development in Urban Areas
Where: Budweiser Events Center, 5280 Arena Cir, Larimer County Fairgrounds - The Ranch, Loveland, CO, 80538
When: Thursday, March 8, 2018 at 6:00 to 8:30 pm
Want to get more involved? The board meeting is at 4:45, same location.
Photos at right:
Top: A rig near Erie, Colorado showing sound proofing walls,
and a light wall to block headlights of vehicles leaving the location.
Bottom: A frac flowback site near Windsor, Colorado.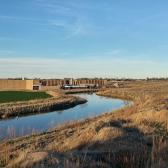 Note the houses behind the site.