Welcome to the website of the Redwood Empire Branch of the American Society of Civil Engineers (ASCE), a professional society for civil engineers. The Redwood Empire Branch of Region 9 covers the California counties of Sonoma, Napa, Lake, and Mendocino. Find more information about the Branch by using the Navigation Bar at the top of the page.
---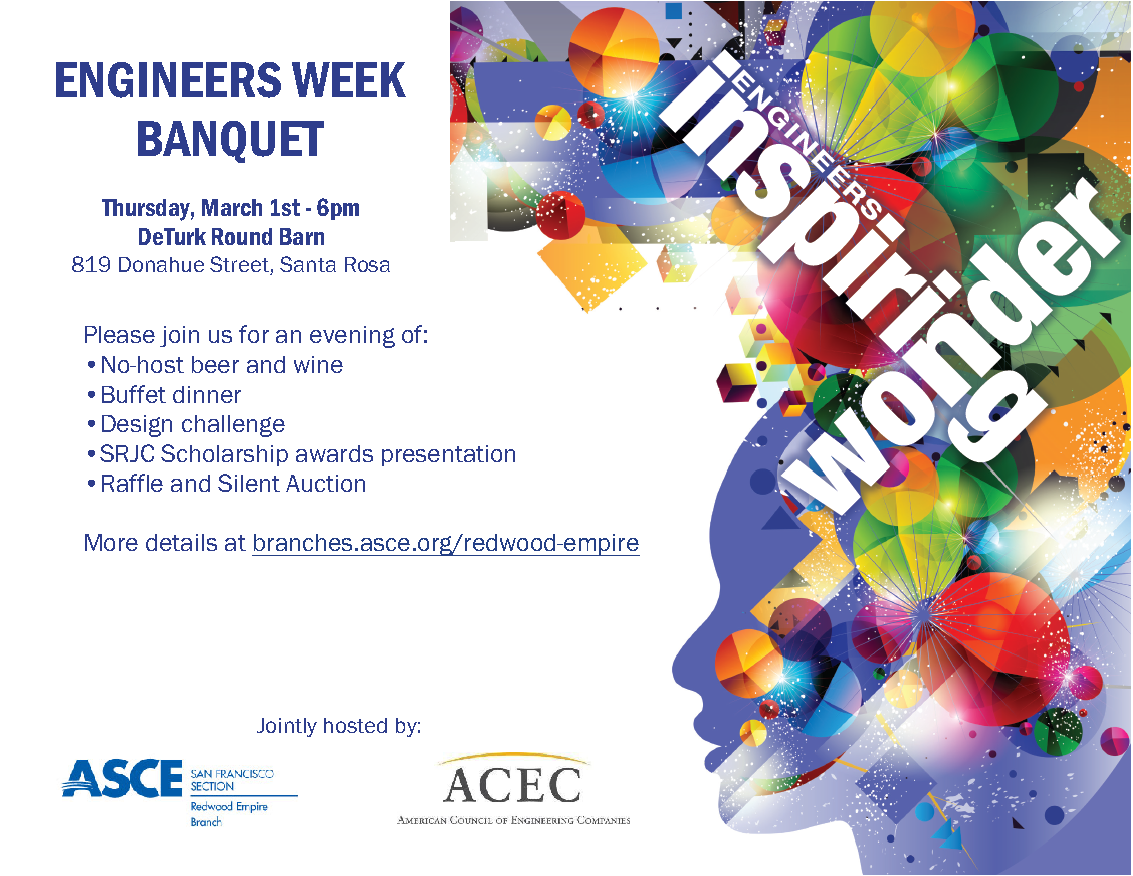 ---
Job Openings:
Announcements
Annual Infrastructure Symposium
ASCE Region 9 and the San Francisco Section invite you to the 11th Annual California Infrastructure Symposium and Awards Dinner on March 23, 2018 at the War Memorial and Performing Arts Center in San Francisco. Find details about speakers, the schedule of events, registration, and sponsorship opportunities at www.caisregion9.org/2018/. ​
March Luncheon
Program: Palace Hotel Retrofit and Renovation Ukiah, CA
The Palace Hotel is a 127-year-old structure with a significant history and relevance on Main Street in downtown Ukiah. It was added to the National Register of Historic Places, California in 1979. The Building was constructed in three phases consisting of a 1891 unreinforced brick masonry (URM), 1914 URM, and the final phase a 1929 reinforced concrete frame building. The building has been mostly vacant and in significant disrepair and in danger of collapse for many years. With pressure and litigation from the City as well as swelling public support, the building will experience a much-needed seismic upgrade and structural restoration en-route to being reborn into a potential boutique hotel and shining star in the community once again. ZFA will present a brief history of the building and key aspects of the scope, retrofit scheme, and challenges including saving the infamous bar!
Speakers: Christian S. Botto, PE – Senior Engineer ZFA Structural Engineers
Jessica Ellis – Designer, ZFA Structural Engineers
Christian Botto, PE, Senior Engineer at ZFA Structural Engineers for over 10 years, obtained his Bachelor of Science in Civil Engineering from San Francisco State University. He began his career working for a Construction Management company on the San Francisco International Airport expansion and has since specialized in structural engineering. His 18+ years of construction and design experience spans to Central America as well. Christian is passionate about seismic retrofits and has worked on many projects under the new San Francisco Mandatory Soft Story Retrofit program in addition to many other retrofit projects throughout his career.
Jessica Ellis, Designer at ZFA Structural Engineers, obtained her Bachelor of Science in Architectural Engineering from California Polytechnic State University, San Luis Obispo and her Master of Science in Civil Engineering with structural emphasis from Columbia University. Jessica began her career with ZFA straight from college in 2017. She has been gaining experience in rehabilitation, new construction, and seismic retrofit for municipal and education projects. Jessica has been a key member in the Palace Hotel resurrection analysis and design.
Date/Time: Thursday, March 8th, 2018 at Noon
Location: Cattlemen's, 2400 Midway Drive, Montgomery Village, Santa Rosa
Cost: $20 ($10 for students)