Welcome to the website of the Redwood Empire Branch of the American Society of Civil Engineers (ASCE), a professional society for civil engineers. The Redwood Empire Branch of Region 9 covers the California counties of Sonoma, Napa, Lake, and Mendocino. Find more information about the Branch by using the Navigation Bar at the top of the page.
---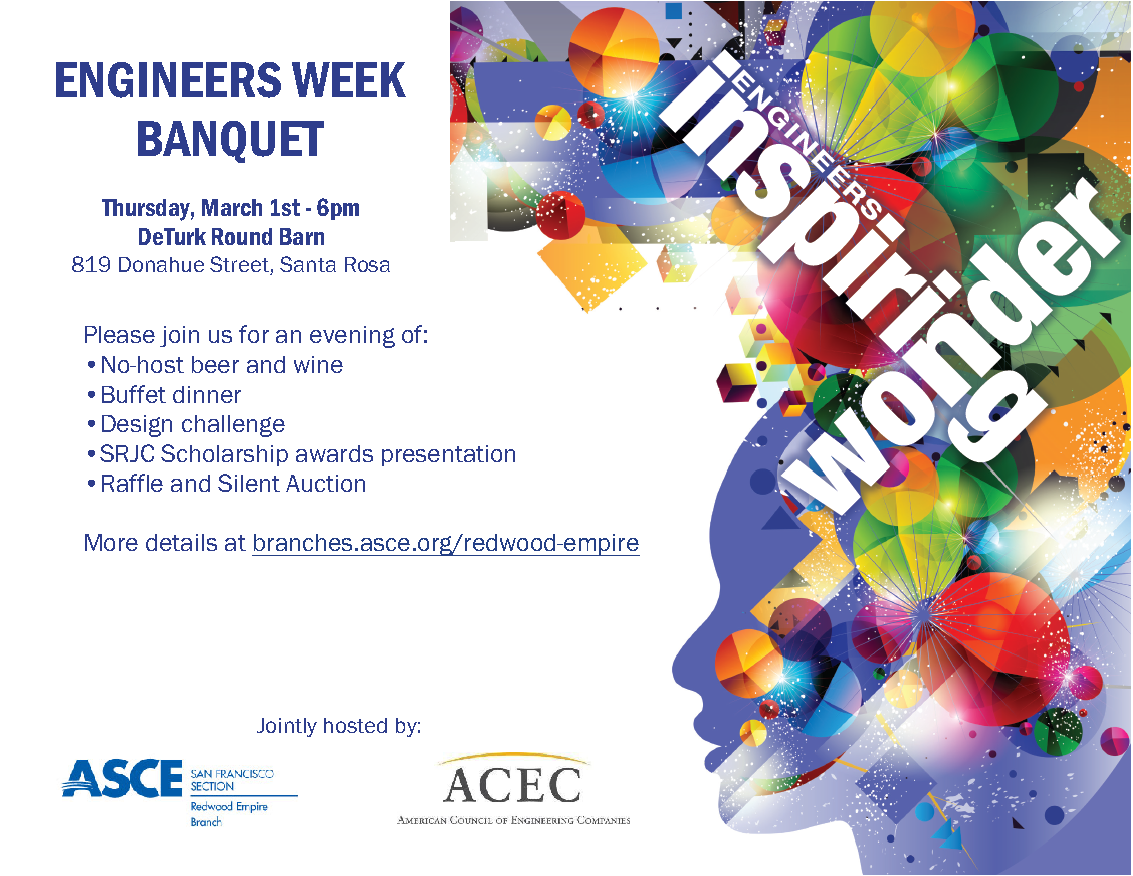 ---
Job Openings:
Announcements
Annual Infrastructure Symposium
ASCE Region 9 and the San Francisco Section invite you to the 11th Annual California Infrastructure Symposium and Awards Dinner on March 23, 2018 at the War Memorial and Performing Arts Center in San Francisco. Find details about speakers, the schedule of events, registration, and sponsorship opportunities at www.caisregion9.org/2018/. ​
Volunteer Opportunities
Please find details below on upcoming volunteer opportunities for the Redwood Empire Branch!
Engineers Without Borders Local Fire Relief Projects
The Sonoma County Professional Chapter of Engineers Without Borders has two local fire relief projects; Wikiup Bridge Way Neighborhood Hydrology Study & Roadway Repair, and Sonoma County Resource Conservation District Culvert & Erosion Control Design. They are seeking volunteers to join the project teams with experience or interest in hydrology and hydraulics, culvert design, roadway embankment stabilization (geotechnical/structural) design, and erosion control. They also welcome any volunteers who would like to help regardless of skillset.
If you are interested in joining the design team, please contact Jessica Pollitz (jessicapollitz@gmail.com) with resume, areas of expertise, and services you'd be willing to offer by this Monday, January 22nd.
North Bay Science Challenge
Our Branch is once again sponsoring the North Bay Science Challenge. It will be held on Saturday, March 10th at Lawrence Jones Middle School in Rohnert Park. They are seeking volunteers to run and judge the challenge activities. Find more information and sign-up to volunteer on the attached volunteer form.