Welcome to the website of the Central Jersey Branch of the American Society of Civil Engineers. The Central Jersey Branch is one of three Branches of the New Jersey Section of the American Society of Civil Engineer. The area of the Central Jersey Branch includes Hunterdon, Mercer, Middlesex, Monmouth, Ocean and Somerset Counties, and that portion of Burlington County north of Spur Route 528 and east of US Route 206.
---
Next Meeting: Tuesday April 17, 2012
Understanding Geotechnical Report and Design
Speaker – Moustafa Gouda - Maser Consulting P.A.
Time – 6:00 pm
Radisson Hotel, 50 Gibson Place, Freehold, NJ
RSVP by Friday April 13, 2012 via e-mail at ASCE_RSVP@yahoo.com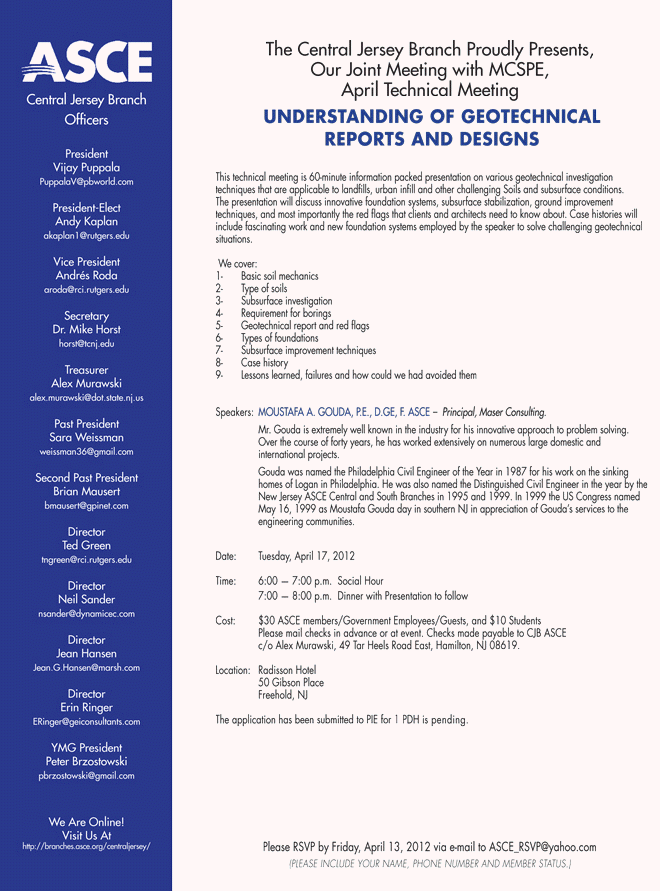 ---
Need affordable PDHs before the April 30th deadline?
The following upcoming events by various organizations are providing PDH credits that are acceptable for continuing professional competency (CPC) credits for professional engineers.
13th Annual New Jersey Work Zone Safety Conference
April 25, 2012 - Rutgers Livingston Hall, Piscataway, NJ (free but only a few seats remain)

4 PDH acceptable for New Jersey and Pennsylvania PE CPC
(CPWM credits available)


New Jersey's 13th Annual Work Zone Safety Conference will promote work zone safety awareness with a multidisciplinary panel on internal traffic control, as well as a discussion on the financial implications of an accident in the work zone. An afternoon interactive roundtable discussion on recent case studies will help you improve work zone safety practices. Hosted by the New Jersey Local Technical Assistance Program (NJ LTAP) in cooperation with the New Jersey Work Zone Safety Partnership
Full agenda and registration details available at this link
---
ASCE Seminars And Conferences
ASCE Continuing Education Seminars
---
Copyright © 2003-2012 American Society of Civil Engineers, New Jersey Section, Central Jersey Branch
ALL RIGHTS RESERVED WORLDWIDE