February 2018 Newsletter
~~ASCE Fox River Valley Branch Newsletter February 2018
January is over and February is upon us. For us in NE Wisconsin this is a good thing. Winter will be ending shortly and spring is right around the corner. It has been a very busy fall and winter for ASCE with monthly meetings and various other activities going on within ASCE FRV.
Please check out our Events tab to see what our monthly meetings have been all about. We have had a wide variety of meetings and will continue that through the remaining part of the winter and spring.
ASCE FRV sponsored the Luxemburg Casco Middle School balsa wood tower challenge. ASCE FRV purchased the balsa wood for the tower challenge and also handed out some ASCE material to the students to let them know what ASCE is all about. The tower challenge is spearheaded by Troy Robillard of Ayres Associates. Engineers from Rice Engineering also help Troy out with the presentation, design, and breaking of the towers. The following is a photo from the kickoff meeting with the middle school students. The photo is of Mr. Gordon and his 8th Grade Tech Ed class at Luxemburg Casco Middle School.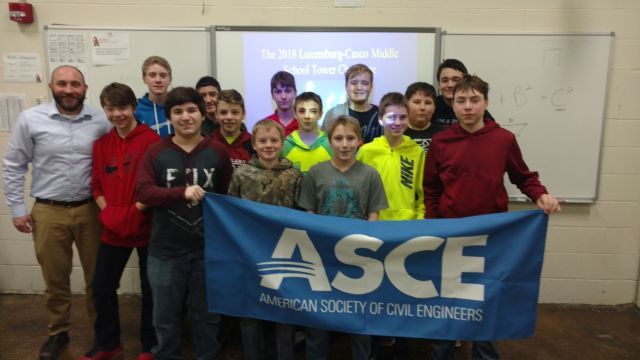 Jennifer Liimatta attended the Multi Region Leadership Conference in Omaha, Nebraska in January. This is a great conference that ASCE FRV board tries to send at least one member to the conference to gain valuable knowledge and understanding on what ASCE National has to offer its members. The conference discusses issues that are currently going on in our profession and what ASCE National is doing to address the issues. This is also a great opportunity to network with other members and to find out what other branches are doing to keep their members involved and informed.
We have some exciting news!!! UWGB is submitting paperwork to create an ASCE Student Chapter on the UWGB campus. The UWGB Engineering Club has started the Statement of Intent for the ASCE Student Chapter. Ken Mika has been working closely with the UWGB Engineering Club to make sure they get the Statement of Intent submitted by February 28, 2018.
National Engineers Week is February 18th to February 24th, 2018. NWTC is hosting an engineering open house on February 22nd, 2018 from 5:00 to 7:00 pm. ASCE FRV branch will once again be hosting a booth to talk about career opportunities in the civil engineering field, and to generally talk to students about what we do every day as civil engineers. We are in need of 2-3 volunteers to help host the booth. If you are available and interested in helping out, please contact Joe Zellmer at joezellmer@jt-engineering.com or by phone at (920) 680-7287.
ASCE FRV Branch is hosting the 2018 Wisconsin Section Annual Meeting. The event will be held on Friday, September 21 at the new Fox Cities Expo Center in Appleton. Preliminary conference planning has already gotten underway, but we are in need of volunteers to join the planning committee to continue to develop the agenda, plan conference details, and host the event. We welcome anyone that is willing to get involved; no previous experience is required! If you are interested in getting involved, please contact Brad Severson (Brad.Severson@raSmith.com) or Joe Zellmer (JoeZellmer@jt-engineering.com), conference planning co-chairs.
Please follow the Upcoming Events tab to find out dates and times of ASCE FRV events and meetings.