UPCOMING EVENTS
ASCE Baton Rouge Luncheon
June 2022 In-Person 
Speaker:
Blake Fogleman, P.E.
 Date: Thursday, June  16, 2022
Time: 11:30 am - 1:00 pm
Place: Drusilla Seafood,
3482 Drusilla Ln D, Baton Rouge, LA 70809
Topic: Louisiana Water Sector Program
Our speaker is Mr. Blake Fogleman, P.E. He will be presenting a presentation on current and future State/Federal funding sources for water and sewer systems.  It includes LDH's State Revolving Fund (SRF), Louisiana's Water Sector Program and addition SRF grants through the Federal Bipartisan Infrastructure Law (BIL), including consolidations and emerging contaminants.
Blake Fogleman joined the Louisiana Department of Health, Bureau of Engineering Services in January of 2019 as the region 2 engineering manager and was shortly assigned to a newly created role as Infrastructure Engineer.  Blake represents LDH on the Rural Water Infrastructure Committee and works closely with the LDH District Engineers to identify water systems experiencing hardships regarding financial issues and infrastructure issues.  Blake works diligently to bring local leaders, parish officials, mayors, councils, and board members together to chart a path forward to resolve the issues they are facing.  Before joining LDH, Blake worked for St. John the Baptist Parish as Public Utilities Director, where he managed four water districts and seven wastewater facilities.  Prior to this, Blake was a consultant engineer at Environmental Engineering Services, LLC and the Shaw Group, providing water and sewer engineering services in southeastern Louisiana to private and public sectors.
Speaker:
Blake Fogleman, P.E.
Topic: Current and future State/Federal funding sources for water and sewer systems
PDH Process: A PDH will be offered for all of those in attendance.
---
Thank You To Our March 2022 Meeting Sponsors
Terracon

Adaptive Management and Engineering

Become a Sponsor!: Sponsorship Request Form 
2022 Business Card Sponsors: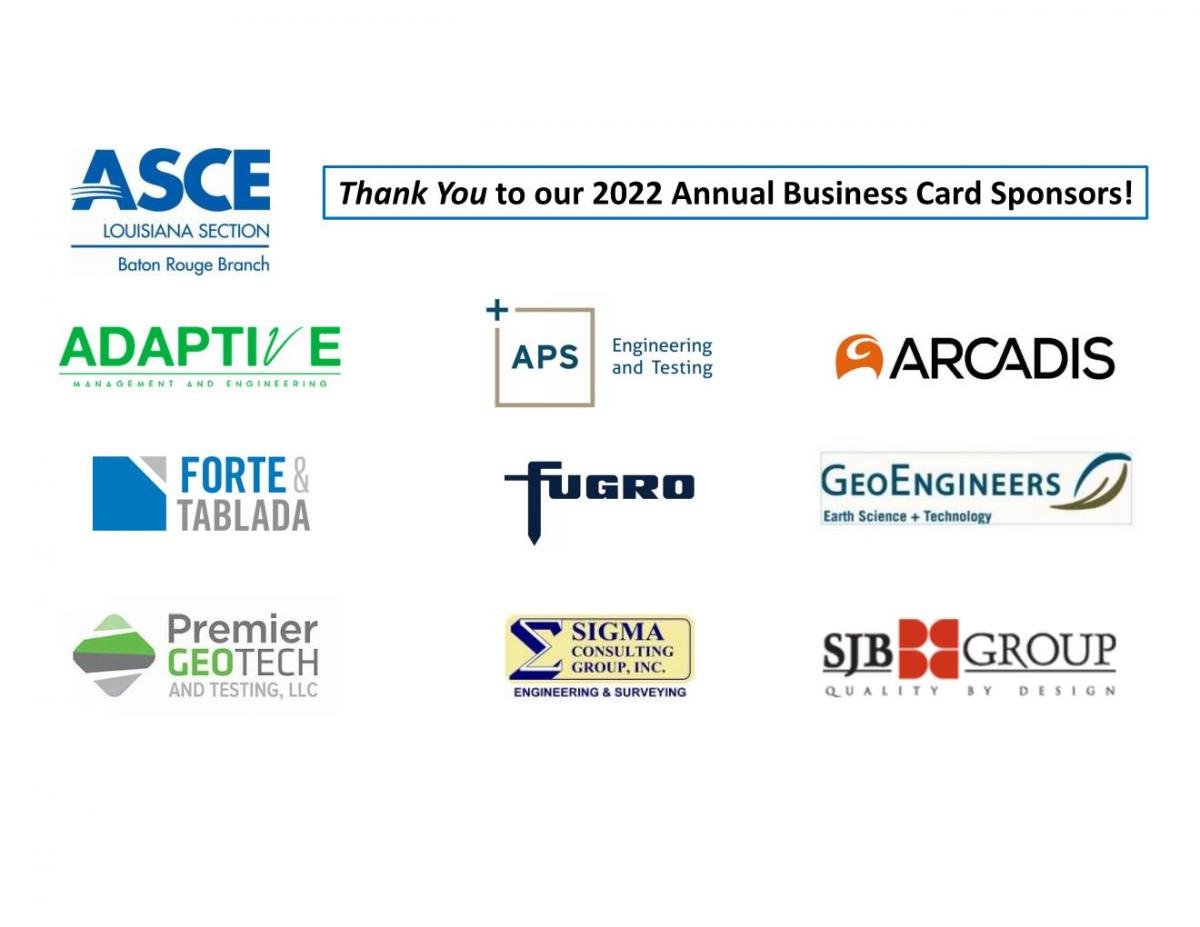 ---
Let us connect with you
If you are a current member of ASCE, you are already on our email list! However, if you are not recieving our emails or have not signed up with ASCE yet, please use the link below to get on our email list. We invite non-members as well as current members to our monthly luncheons and various other events throughout the year.