Welcome to the American Society of Civil Engineers - Baton Rouge Branch website. The Baton Rouge Branch was established to serve ASCE Louisiana Section members in the Louisiana Capital Region. Together with other members of the Louisiana Section, we advocate ASCE's mission by serving as a liaison between civil engineering university students and the professional community, volunteering, and community involvement and sponsorship of continuing education luncheons and seminars.
James "Jim" Webb
July 3, 1935 — February 21, 2023
Baton Rouge
Mr. James "Jim" C. Webb, a resident of Baton Rouge, passed away peacefully on Tuesday, February 21, 2023, at Ochsner Hospital in New Orleans at the age of 87. He was five times retired from LA DOTD, RBA, DPW, CTE and MMLH.
Jim Webb is survived by his wife Jerrie P. Webb of 63 years; son and daughter-in-law Benjamin "Ben" and Tisa Webb; daughter and son-in-law Cindy and Stephen Henry; grandchildren Caroline Webb, Benjamin "Travis" Webb and Eli Henry; sister Joyce Viator and brother Jerome Webb. He is preceded in death by his parents William T. Webb and Lillian Richard Webb, brother Billy Webb, and his father-in-law Benjamin "Doc" Hardy Phillips and mother-in-law Travis Sherman Phillips.
Jim Webb was born on July 3, 1935, in Westlake, LA. He graduated from Southwestern Louisiana Industrial Institute (SLII) in 1962 with a degree in civil engineering. He married Jerrie Phillips, his college sweetheart in 1959. After moving to New Orleans Jim began working for LA Department of Transportation Development (DOTD) as chief of the flood control section and later transferred to Baton Rouge with LA DOTD where he worked on the Louisiana Offshore Oil Port (LOOP). He later became Director of Department of Public Works (DPW) in Baton Rouge before moving to New Orleans to work with the Street Department. He then went to Construction Testing & Engineering, Inc. (CTE) and Meyer, Meyer, LaCroix & Hixson, Inc. (MMLH) where he worked utility relocation for the Widening of the Huey P. Long (HPL) Bridge in New Orleans and the John James Audubon (JJA) Bridge connecting New Roads and St. Francisville. Jim was a lifelong, one man, recruiting and public relations advocate for American Society of Civil Engineers (ASCE). He served as Branch President, Section President, District 14 Chair and a member of the National ASCE Board of Directors. Jim prepared the successful proposal applications for two Outstanding Civil Engineer Achievement Awards featuring Louisiana projects. In 1982, Jim prepared the LOOP project proposal, and in 1984, he prepared the Luling-Destrehan (Hale Boggs) Mississippi River Bridge project proposal. These awards brought international acclaim to Louisiana for these outstanding projects within our State. Jim advised and encouraged many young civil engineers to join and become active in ASCE.
Jim was a loving husband and father. He enjoyed traveling and outdoor activities including camping, sailing, and golfing. He loved time spent with his grandchildren. His children and grandchildren remember him as an avid golfer and jack of all trades.
A visitation will be held at Resthaven Funeral Home in Baton Rouge on Saturday, February 25, 2023, from 9:30 am until the service at 11:00 am. Deacon Don Musso will officiate the ceremony. All are welcome to attend and celebrate Jim Webb's life. Interment and reception will follow at Resthaven. Pallbearers will be Ben Webb, Stephen Henry, Travis Webb, Eli Henry, Rodrigo Diaz and Chris Piehlor. The family is grateful for the love and support of many friends and the medical care from the doctors and ICU staff at Ochsner Hospital in New Orleans for their care and dedication.
To order memorial trees or send flowers to the family in memory of James "Jim" Webb, please visit our flower store.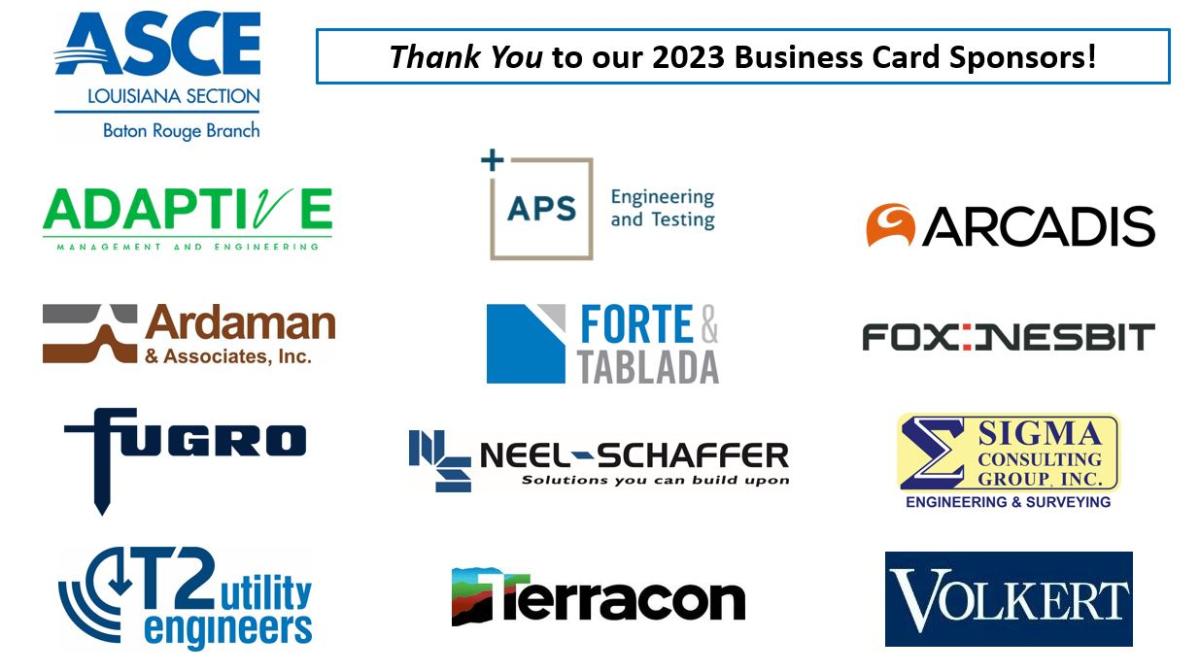 Become a Sponsor!: Sponsorship Request Form
---
Let us connect with you
If you are a current member of ASCE, you are already on our email list! However, if you are not recieving our emails or have not signed up with ASCE yet, please use the link below to get on our email list. We invite non-members as well as current members to our monthly luncheons and various other events throughout the year.