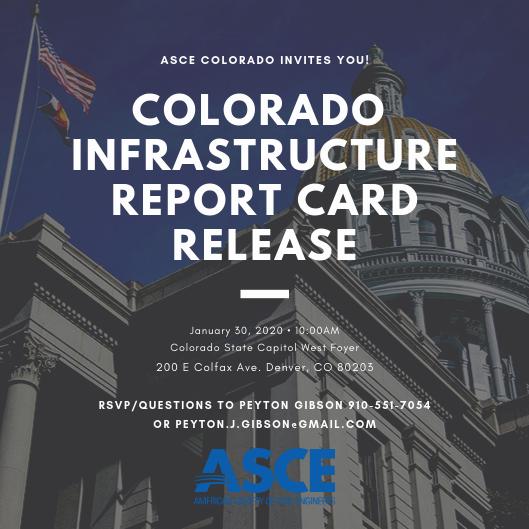 Colorado's infrastructure is reaching a critical crossroads. As the Centennial state's population grows-- thanks in part to our abundant sun and outdoor recreation-- the infrastructure we depend on is suffering from years of under-investment. As a result, our schools, roads, bridges, sewer lines, water treatment facilities, and many other critical assets are failing to keep pace with the needs of our growing state.
The American Society of Civil Engineers' Colorado Section is hoping to change that with the release of the Colorado Infrastructure Report Card. The report card will serve as an advocacy tool to encourage smart public and private investments in Colorado's infrastructure. Roughly two dozen ASCE members VOLUNTARILY co-authored the report. The 2020 report issues grades (A - F can be assigned) for the following infrastructure sectors: Aviation, Bridges, Dams, Drinking Water, Energy, Hazardous Waste, Levees, Parks, Rail, Schools, Solid Waste, Transit, and Wastewater. Colorado ASCE's chapter has not issued a report card since 2010, and it's high time citizens of our state receive an updated assessment and list of priorities from its civil engineers.
Infrastructure spending serves a greater purpose of ensuring we have things like safe roads to access our great outdoors, state of the art schools to educate our children, and transmission lines to access cleaner, renewable sources of energy. With the recent defeat of Prop CC, the CO Infrastructure Report Card will serve as a timely talking point for CO policy makers and voters.
It's important that civil engineers have a voice in public policy, because few people understand our infrastructure needs better. Brian Pallasch, who served as ASCE's Managing Director of Government Relations, said it best: "If civil engineers aren't talking about infrastructure, who is?"
Join ASCE Colorado Section at the Capitol Building's West Foyer at 10 AM on January 30th to help promote better infrastructure policy in Colorado with the official release of the 2020 Colorado Infrastructure Report Card! Official speakers to be announced.
Sign-up here, follow the event on Facebook here and check out the below sample past report card: