Baton Rouge Branch & LES Joint Luncheon
September 2020 In-Person and FB Live
Speaker: Dr. Shawn Wilson,
Secretary of the Louisiana Department of Transportation and Development (
DOTD
)
Time: 11:30 am - 1:00 pm
Place: Drusilla Catering 3482 Drusilla Ln., Baton Rouge, LA 70809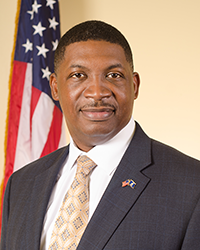 Dr. Shawn Wilson,
Secretary of the Louisiana Department of Transportation and Development (
DOTD
)
Dr. Shawn Wilson was appointed Secretary of the Louisiana Department of Transportation and Development (DOTD) by Governor John Bel Edwards in January of 2016 after more than 15 years of executive service at DOTD. Since his appointment, Dr. Wilson has advocated for new revenue, maximizing Federal dollars available to Louisiana, advancing a balanced and comprehensive transportation policy for Louisiana, and ensuring the Department is more collaborative in its work at every level.
Under his leadership, DOTD was successful at securing and obligating nearly $150 million additional Federal dollars for I-10 widening from I-49 to New Orleans, for the Baton Rouge I-10 bottleneck, and for the shortest Design Build procurement in the state's history is underway to widen I-10 from Highland Road to LA 73. The DOTD has turned its focus to procuring $650 million in GARVEE Bonds for two Design Build Projects, a major Urban Interstate Reconstruction and the state's first Public Private Partnership.
Dr. Wilson was previously the Chair of the AASHTO Council on Water Transportation and is the new Chair of the AASHTO Agency Administration Managing Committee. Dr. Wilson earned a B.A. in Urban and Regional Planning from the University of Louisiana and holds a Master of Public Administration degree, as well as a Ph.D. in Public Policy from the Nelson Mandela School of Public Policy and Urban Affairs at Southern University.
Shawn and his wife, Rocki, reside in Lafayette, they have two children, one son-in-law, and two beautiful grandchildren.
Topic: DOTD Outlook on Projects (Major & Local), P3 Project Opportunities, and Covid 19 impacts
SPECIAL COVID19 INSTRUCTIONS:
Limited Seating Luncheon: Due to COVID19 and adhering to the Governor's plan for a Phased Reopening, the August Joint Luncheon will be opened up to a limited seating of 50 max in Drusilla's Catering. Only register if you plan to attend in-person at Drusilla's. ASCE recommend that all in-person registrants wear masks and practice social distancing. All other members can log in and can attend via the FB Live Event meeting (see directions below).
Access FB Live Video:
Please log onto the ASCE Baton Rouge Facebook page, which can be found by searching
@ASCEBatonRougeBranch
within any Google search bar or within Facebook itself.
Click on the "Videos" tab on the ASCE - Baton Rouge Branch Facebook page, and you will see an option to click on the "Live" Video. The video will be accessible at 12:00 PM.
Date: FB Live Event Thursday, September 24, 2020
Time: The session will begin promptly at 12:00 PM
Questions: Typed questions may be submitted throughout the session. The Branch board will have representatives with Secretary Dr. Shawn Wilson tracking questions to be sure all are addressed.
Paid for August luncheon that was cancelled? Just register for this luncheon and select the "Paid for August Luncheon" in the payment section. (Thanks for your understanding).
PDH Process: We will also be on hand to track attendance during the event, and a PDH will still be offered for all of those in attendance. To log attendance, please type in your name (first and last) and "BR ASCE" in the chat session during the online session so that we may capture it for PDH purposes.
---
Thank You To Our September 2020 Meeting Sponsors
Become a Sponsor!: Sponsorship Request Form
2020 Business Card Sponsors: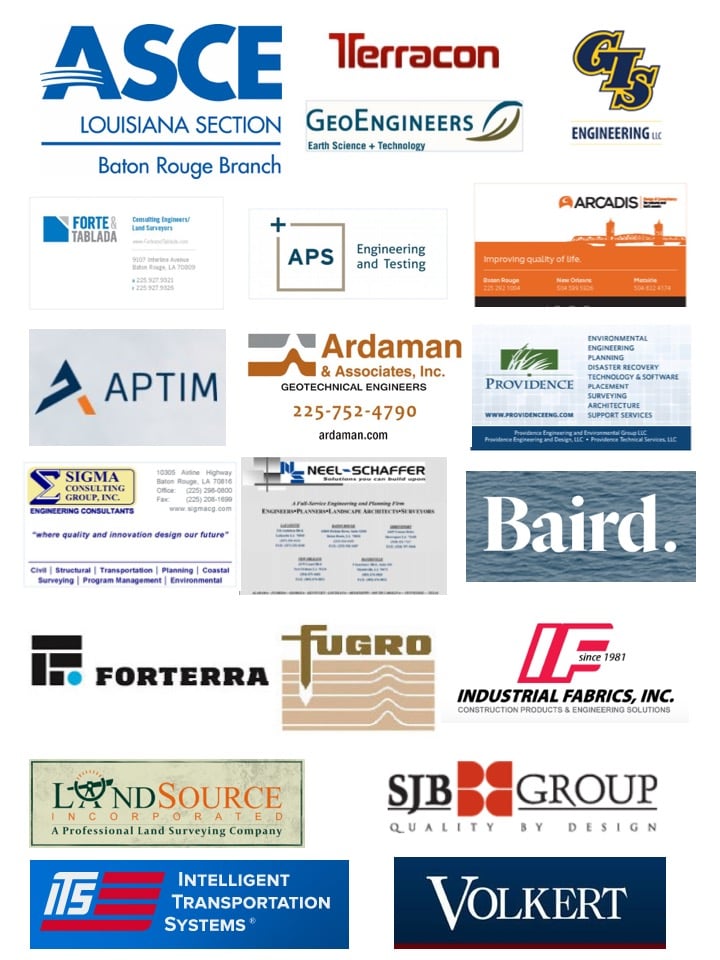 ---
Like us on Facebook!