Baton Rouge Branch Annual Past Presidents & Awards Luncheon
June 2020 In-Person and Facebook Live
The Branch Award winners for this year are:
Lifetime Achievement: Chris Knotts, PE
Wall of Fame Award Nominee: James Webb, PE retired
Outstanding Civil: Rudy Simoneaux III, PE
Outstanding Young Civil: Alicia Sellers, PE
Outreach: Robb Jewell, PE
Civil Engineering Educator: Brian Wolshon, PhD, PE., PTOE
Clinton Willson, PhD, PE - Louisiana State University
Topic
:
Inland from the Coast (IFC) is a National Academy of Sciences' Gulf Research Program and Robert Wood Johnson Foundation project, operated out of the LSU Coastal Sustainability Studio. The IFC project, focused primarily in the Amite River Basin, seeks to improve understanding of inland-coastal environmental conditions and vulnerabilities; determine indicators of community health and wellbeing; and develop design and planning best practices for reducing risk and increasing adaptive capacity.
Part of this presentation will focus on our work using the Amite River Basin Numerical Model, developed by Dewberry for the LA DOTD, to look at how changes, over the past ~80 years, in land use land cover and river sinuosity have (or haven't) impacted Amite and Comite River's flow and river stage hydrographs. Preliminary results from our modeling will be presented and discussed, and then connections will be made to other parts of the IFC project, including compound flooding and identification of the flood transition zone; health and well-being indices as additional approaches to assess vulnerability and risk for planning at different scales; and senior- and graduate-level student collaboration on stormwater mitigation projects in the region.
Clint Willson is the Mike N. Dooley, PE Professor of Civil & Environmental Engineering and Director of the LSU Center for River Studies. He served as President of the Baton Rouge Branch of ASCE in 2011-12 and was recognized as the 2018 Louisiana Section ASCE Educator of the Year. Clint has been at LSU for almost 22 years and is looking forward to the day when he starts to teach the next generation of his former civil and environmental engineering students.
SPECIAL COVID19 INSTRUCTIONS:
Limited Seating Luncheon: Due to COVID19 and adhering to the Governor's plan for a Phased Reopening, the June Award Luncheon will be opened up to a limited seating in Juban's Perkins Room with a maximum capacity of 40, including Award winners & ASCE members (4 round tables, 10 people at each table). Only register if you plan to attend in-person at Juban's. ASCE recommend that all in-person registrants wear masks and practice social distancing. All other members do not need to log in and can attend via the ASCE Baton Rouge Facebook page (see directions below).
Access FB Live Video:
Please log onto the ASCE Baton Rouge Facebook page, which can be found by searching
@ASCEBatonRougeBranch
within any Google search bar or within Facebook itself.
Click on the "Videos" tab on the ASCE - Baton Rouge Branch Facebook page, and you will see an option to click on the "Live" Video. The video will be accessible at 11:30 AM.
Date: Facebook Live session Thursday, June 18, 2020
Time: The session will begin promptly at 11:30 AM
Questions: Typed questions may be submitted throughout the session. The Branch board will have representatives with Dr. Willson tracking questions to be sure all are addressed.
PDH Process: We will also be on hand to track attendance during the event, and a PDH will still be offered for all of those in attendance. To log attendance, please type in your name (first and last) in the comment bar on FB during the online session so that we may capture it for PDH purposes.
SPONSORS:

---
UPCOMING EVENTS
2020 ASCE Louisiana Section Spring Conference To be held in September
Hosted by the Acadian Branch
Dates:
Thursday and Friday, September 17-18, 2020
Location:
City Club at River Ranch
1100 Camellia Blvd,
Lafayette, LA 70508
Contact:
Algy Semien (Fenstermaker)
Online Registration: TBA
---
Become a Sponsor!: Sponsorship Request Form
2020 Business Card Sponsors: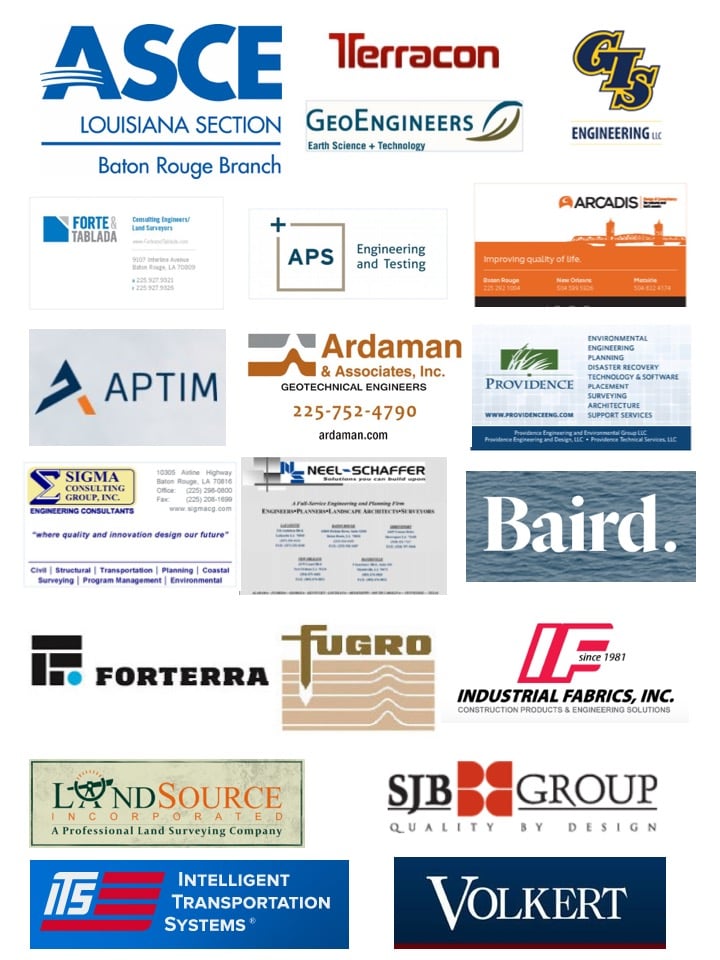 ---
Like us on Facebook!