Joint LES and Baton Rouge Branch MAY 2020 In-Person and Facebook Live
CHIP KLINE, Executive Assistant to the Governor for Coastal Activities
Topic: CPRA update
SPECIAL COVID19 INSTRUCTIONS:
Limited Seating Luncheon: Due to COVID19 and adhering to the Governor's plan for a Phased Reopening, the May LES/ASCE Joint Luncheon will be opened up to a limited seating with a maximum capacity of 30 LES and/or ASCE members. Only register if you plan to attend in-person at Mike Andersons. LES & ASCE recommend that all in-person registrants wear masks and practice social distancing. All other members do not need to log in and can attend via the ASCE Baton Rouge Facebook page (see directions below).
Access FB Live Video:
Please log onto the ASCE Baton Rouge Facebook page, which can be found by searching
@ASCEBatonRougeBranch
within any Google search bar or within Facebook itself.
Click on the "Videos" tab on the ASCE - Baton Rouge Branch Facebook page, and you will see an option to click on the "Live" Video. The video will be accessible at 11:30 AM.
Date: Facebook Live session Thursday, May 28, 2020
Time: The session will begin promptly at 11:30 AM
Questions: Typed questions may be submitted throughout the session. The Branch board will have representatives with Mr. Kline tracking questions to be sure all are addressed.
PDH Process: We will also be on hand to track attendance during the event, and a PDH will still be offered for all of those in attendance. To log attendance, please type in your name (first and last) in the comment bar on FB during the online session so that we may capture it for PDH purposes.
SPONSORS:


---
UPCOMING EVENTS
2020 ASCE Louisiana Section Spring Conference Postponed
Hosted by the Acadian Branch
Dates:
Thursday and Friday, September 17-18, 2020
Location:
City Club at River Ranch
1100 Camellia Blvd,
Lafayette, LA 70508
Contact:
Algy Semien (Fenstermaker)
Online Registration: TBA
---
Become a Sponsor!: Sponsorship Request Form
2020 Business Card Sponsors: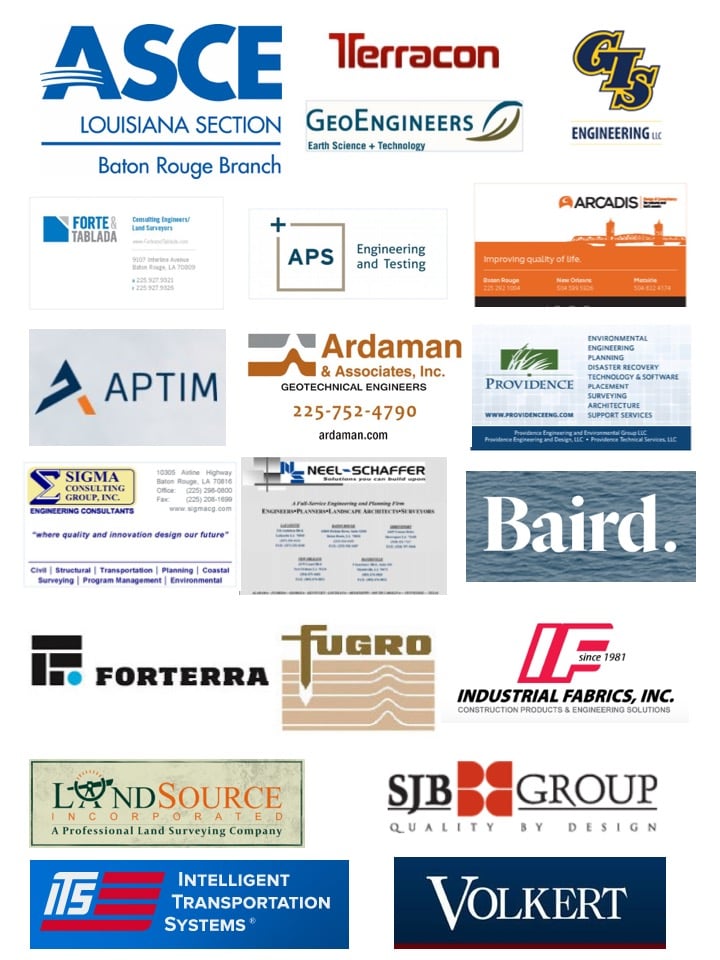 ---
Like us on Facebook!