2016 Branch Award Winners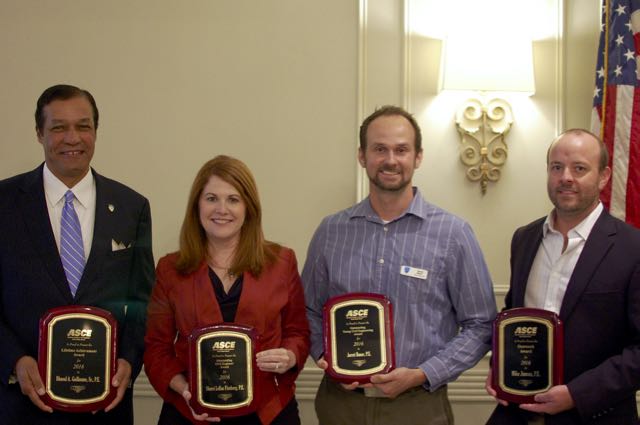 Left to right: Rhaoul Guillaume, Sherri LeBas, Jarret Bauer, and Michael Juneau (Not pictured: Charles Eustis)

Outreach Award: Michael Juneau
Mr. Juneau truly exemplifies what it means to 'get down and dirty'. He joined the "Engineer It" team and held a workshop at the Louisiana Art and Science Museum to teach children about geotechnical engineering and how it is related to other engineering disciplines. He created a unique, interactive approach by incorporating hands-on activities and providing the tools and materials necessary for the children to perform a sieve analysis, conduct an Atterberg Limits test, and measure soil strength using a pocket penetrometer on real soil samples he had pulled for projects.

Outstanding Young Civil Engineer: Jarret Bauer
Mr. Bauer received a Business Management Degree from Loyola University, his bachelor's degree in Civil Engineering from Louisiana State University, and is currently working on his Master's in Coastal and Ecological Engineering at LSU. He allows high school and college students interested in the field of engineering to observe him in his office and on-site during field visits so they can gain first-hand, professional experience. He also supervises young engineers and provides an opportunity for them to become well rounded in the technical and managerial aspects of engineering. When he lived in New Orleans, he was active in their Branch and has continued that dedication and involvement in Baton Rouge. As the Baton Rouge representative for his company, All South Consulting Engineers, he secured selection as the Ascension Parish's Representative for technical review and advisement for parish wide sewer implementation. He managed the construction of a $30 million medical center allowing lower Plaquemines Parish to have closer access to medical services.

Outstanding Civil Engineer: Sherri LeBas
Mrs. LeBas is a former Secretary of the Louisiana DOTD and she has proven to be one of the most powerful and influential women in the state over the last several years. She eloquently represented the state at many public meetings, technical and leadership conferences, and even at ASCE's 150 year gala. She has been a member of ASCE since college and was active in other engineering societies and committees including LES, Louisiana Good Roads, the Statewide Transportation Plan Policy Committee, SASHTO, and AASHTO. She is an advocate for young engineers to join professional organizations and even reaches out to students to encourage their involvement in professional societies related to their field. She is an active member of the Junior League of Baton Rouge and was extremely involved in her church and children's school functions.

Lifetime Achievement Award: Rhaoul Guillaume
As the President of GoTech Civil Engineering Firm, Mr. Guillaume's impact to the profession is far reaching. He represented the owner on the construction site of the Louisiana Superdome. He was the recipient of the Louisiana Engineering Society's Andrew M. Lockett Award for Distinguished Civic Service by an Engineer for several years in a row. His company was named the Baton Rouge Business Report's Company of the Year in 2013. The multitude of projects that he led have won awards and been recognized at the National level. He served for 7 years in many capacities on the LAPELS board. He was also involved in many engineering societies and held leadership roles in each. Outside of engineering, he has served on boards and committees including the Baton Rouge Community College Foundation Board, Alliance for Judicial Excellence, Rotary Club of Baton Rouge just to name a few (literally, the list goes on and on!). He has dedicated lots of time to St. Aloysius, St. Joseph's Academy and St. Jude Catholic Church by serving as chairman of multiple committees, officer of multiple clubs, a Eucharistic minister, and council president.

Wall of Fame Recipient: Charles Eustis
Mr. Eustis is recognized as a national expert on geotechnical issues related to coastal restoration and his experience includes 10 high profile coastal restoration projects totaling over $200 million. In the aftermath of Hurricanes Katrina and Rita, he assisted FEMA in confirming soil conditions were adequate to house portable shelters and trailers – this project won the 2006 Hugh Coble Project Excellence Award. He has been on countless committees and developed numerous practices, guidelines, and codes. He was extremely active in ASCE at the Branch and Section levels. He also served on the Board of the New Orleans Chapter of Louisiana Engineering Society. He has spread his knowledge and technical experience to our future engineers in the senior design classes at LSU and personally contributes to a Louisiana Engineering Foundation Scholarship presented to a student in his name.