We are the Southeastern Michigan Branch of the American Society of Civil Engineers (ASCE), a non-profit national organization. ASCE's mission is to provide essential value to our members, their careers, our partners and the public by developing leadership, advancing technology, advocating lifelong learning and promoting the profession.
The Southeastern Michigan Branch serves members of the civil engineering profession in Lenawee, Macomb, Monroe, Oakland, St. Clair, Washtenaw, and Wayne counties.
Announcements
ASCE Central Region MRLC 2020
Our branch is excited to host the 2020 Multi-Region Leadership Conference (MRLC) for the Central Region, to be held January 9-11, 2020 at the Marriott Renaissance Center in downtown Detroit, Michigan.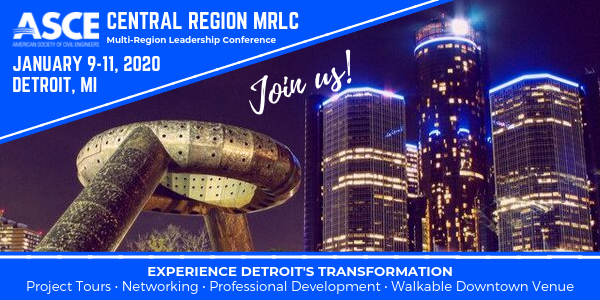 Our host committee has planned a variety of networking and social events in conjunction with MRLC. We invite members of our local branches and sections, as well as our guests from Regions 3, 6, and 7, to join us for our career fair, welcome social, awards banquet, and construction tours! Click below for complete details.

Your support is needed to make this event a success! Support student engagement and leadership development within the civil engineering profession, while achieving visibility for your company.

Our Sponsors