Announcements
Job Announcement
August 6, 2018. The City of Greeley has an opening for a Stormwater Engineer.
Job Summary
This position requires the Civil Engineer to act as the Program Manager for stormwater infrastructure design and construction of capital improvement projects (CIP). This is a professional civil engineering position requiring independent judgment and initiative. Primary assignments include review of new development projects, design and management of public works capital improvement projects, coordination with engineering consultants and maintenance of City engineering records. Coordination with technical boards, infrastructure permit administration ordinance enforcement, utility company coordination, coordination with the Division's Asset Management Program, and supervision of Staff Engineers, Engineering Technicians, and Engineering Assistants.
Click here to see the posting on the City of Greeley website.
May 2018 Meeting Pictures
Click here to see the pictures from the May 2018 meeting, featuring a presentation by Robin Dornfest, and student awards!
Region 7 Newsletter
A new issue of the Region 7 Newsletter is available, featuring articles on sustainability, the student GeoWall competition, dates of upcoming conferences, Society Award winners, and more!
Project Build - Wind Turbines April 21, 2017
We had a great time at the High Plains Library in Greeley building wind turbines! Judi Koch with the Library had worked out how to build turbines from cups, little motors, and corks, and the kids were successful in building them.
Presidents and Governors Forum

Our incoming president for 2017-2018, Lance Heyer, PE, attended the Presidents and Governors Forum, held in Reston Virginia at ASCE headquarters. He brought back a number of great ideas for our Branch, including ideas on how to better utilize social media. He's in the 4th row, 6th from the right.
(Handy tip: if you want to make things bigger in your browser, hold your control key and push the + key. To make them smaller, use control and the - key.)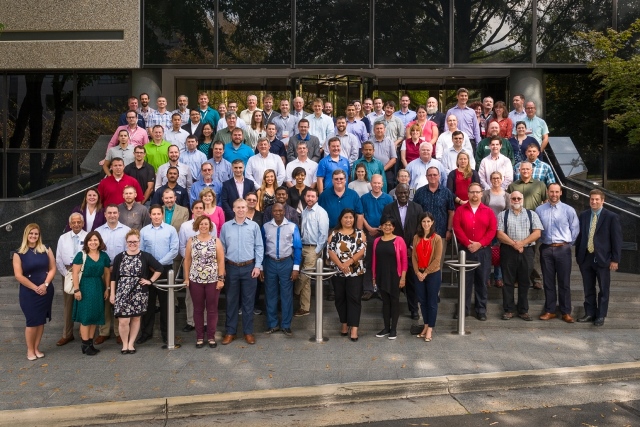 ---
CSU at Regionals
CSU sent about 30 students to the ASCE Student Regional Conference at the University of Utah and they did exceptionally well!

The students presenting a technical paper, Jenna Howard, and non-technical paper, Micah Gibbons, each placed third in the oral presentation part of the competition.

The steel bridge team placed second overall (out of 14 teams) earning themselves a spot at the national competition this summer. They finished first for economy and their display, second for construction speed, and third for stiffness and efficiency.

The concrete canoe team placed third overall (out of 11 teams). They were third for their design paper and final product, and second for oral presentation. The paddling teams braved some VERY chilly, rainy weather in the morning and placed third for the co-ed sprint.

CSU finished up third overall for the entire conference. It was great to see our students doing well and also supporting each other! CSU webpage photo gallery
---
ASCE Continuing Education

ASCE offers great continuing education resources, including on-demand learning, live webinars, and conferences. Topics include Codes & Standards, Construction, Geotechnical, Pipelines, Structural, Transportation and more. Check out the ASCE Continuing Ed Page Here!
If you wish to make an announcement, please contact Lisa Denke (or 661-547-2770).