Announcements
Job Announcement: City of Fort Collins Civil Engineer III
Posted on Northern Colorado ASCE 01/21/19. Application deadline is 3:00 p.m. MT on 2/1/2019.
To apply, click here.
POSITION TITLE: Civil Engineer III (Full-Time Regular) (Classified)
REQUISITION #: req1827
DEPARTMENT: Water Utilities Engineering
LOCATION: UTILITIES SERVICE CTR - BLDG A
BENEFIT CATEGORY: Classified (Non-CBU)
EMPLOYMENT TYPE: Full-Time Regular
ANNUAL SALARY RANGE: $74,118.00 - 123,530.00 (Salaries are paid biweekly)
SELECTION PROCESS: Application deadline is 3:00 p.m. MT on 2/1/2019.
You will receive an email acknowledgment when you have successfully submitted an application. Your completed application will be forwarded to the hiring manager. You will be notified if you are selected for further testing or interviews. Please keep your contact information up-to-date. The status of your application will be updated in your applicant profile. Post-offer background check, motor vehicle report, and drug test required.
SUMMARY: Manages and performs system design and review of development plans for water distribution, wastewater collection and stormwater systems within the Development Review team of the Stormwater Engineering and Development Review Division. Supervises staff and performs extensive coordination with other Development Review staff, Utility Water/Wastewater/Stormwater Superintendents and field crews, Stormwater floodplain administration and Stormwater Master Planning staff. Coordinates with various City departments, other agencies and the public relating to development review activities and the design, construction and maintenance of water distribution, wastewater collection and stormwater systems. Develops and interprets policies, procedures, goals and objectives to ensure compliance with engineering principles, City Code and federal, state, and county regulations
ESSENTIAL DUTIES AND RESPONSIBILITIES: The following duties and responsibilities are illustrative of the primary functions of this position and are not intended to be all inclusive.
Performs and directs/supervises staff engineers in implementation of projects and programs including preparation and review of water distribution, wastewater collection and stormwater infrastructure. Ensures development plans comply with stormwater, wastewater, and water criteria, standard specifications and master plans.
Manages, assigns and reviews work projects and activities in consultation with the Stormwater Engineering and Development Review Director. Ensures compliance with assigned project and program schedules. Ensures completion of assigned projects and programs within established budgets.
Supervises and provides guidance, coaching, mentoring and overall review of assigned staff projects and programs. Directs the review and approval of technical water, wastewater and stormwater computer hydrologic and hydraulic models and reports.
Directs the review and final approval, and signs final mylars for water-related utility improvements in new developments. Works continuously and effectively as part of the Stormwater Engineering and Development Review management team to ensure coordination and consistency in review comments and implementation of division goals and objectives.
Assists with the formulation of capital improvement plans enabling orderly expansion of the stormwater, wastewater, and water systems ensuring coordination with private development.
Assists with and facilitates the expansion of the water-related utility systems to serve new customers who, for the most part, are not represented in the process. Ensures the expansion of our utility systems in a manner that does not burden existing customers or jeopardize the reliability or quality of service we provide to both existing customers and new customers.
Prepares and monitors, in conjunction with the Stormwater Engineering and Development Review Director, the Development Review budget, including oversizing and developer repays.
Serves as a single point of contact for external and internal customers to ensure a consolidated and coordinated review that also includes comments from the floodplain administration and Stormwater Master Planning programs. Collaborates closely with other staff engineers involved in these programs.
Ensures that stormwater quality considerations and requirements that include Low Impact Development (LID) and Best Management Practices (BMPs) are addressed and incorporated into development plans.
Oversees the inspection of new development construction (water, wastewater and stormwater) to monitor progress and ensure conformance to engineering plans and design criteria
Oversees the review and approval of certifications for stormwater facilities.
Oversees the authorization of holds and releases in the Development Tracking System.
Assists with the creation and finalization of development agreements to document requirements and financial obligations.
Oversees the review of and recommends payments for oversizing and developer repays.
Coordinates with other City departments, other agencies and the public.
Resolves conflict and solves difficult technical and policy issues between developers, engineers, stakeholders, interested parties, the public and the City.
Represents the City and serves as a technical and policy resource for the public, consultants and developers, City boards and departments, City Council, and other organizations regarding specific projects or general engineering questions.
Effectively communicates in public settings and consistently strives to improve interpersonal skills, public communications skills, with an emphasis on social media.
Compiles, researches and analyzes reports, records, drawings and other data to plan, design, and/or evaluate projects or programs. Interprets standards and City policy. \
Prepares correspondence/provides information for distribution and/or presentation to other agencies, other city departments, general public, special interest groups, property owners, and consultants.
Assists with emergency preparedness and response activities related to flooding, including serving as an on-call person for the City's flood warning system.
Performs other related duties as assigned.
SUPERVISORY RESPONSIBILITIES: Responsible for the supervision of assigned staff.
---
QUALIFICATIONS: The requirements listed below are representative of the knowledge, skills, and abilities required to perform the necessary functions of this position.
KNOWLEDGE, SKILL, AND ABILITIES
Excellent organizational and time management skills with the ability to handle a variety of tasks on concurrent projects.
Ability to establish and maintain effective working relationships with employees, City consultants and the public.
Ability to review and evaluate water distribution, wastewater collection and stormwater system designs and provide comments and assistance through the development review process to ensure systems meet local, state and federal requirements and City Code.
Knowledge of and work experience with water and wastewater hydraulic engineering software and models.
Knowledge of and work experience with hydrologic and hydraulic engineering software including MODSWMM, EPASWMM, HEC-RAS, HEC-HMS, HY-8 or UD Culvert.
Knowledge of and work experience with AutoCAD or MicroStation.
Ability to read and interpret engineering reports and plans, and floodplain and floodway mapping, including determining flood elevations.
Knowledge of floodplain management principals and methods.
Knowledge of federal floodplain management programs and regulations.
Ability to use Geographic Information Systems (GIS) to prepare maps and obtain floodplain and property information.
Ability to coordinate with a variety of individuals with varying technical backgrounds including local, state and federal agencies.
Excellent verbal and written communication and interpersonal skills.
Supervisory and training skills.
EDUCATION AND EXPERIENCE: Bachelor's degree in civil engineering, hydrology, or a related field from an accredited college or university. Five to eight years related experience or equivalent combination of education and experience.
LANGUAGE SKILLS: Ability to read, analyze, and interpret common scientific and technical journals, financial reports, and legal documents. Ability to respond to complex inquiries or complaints from customers, regulatory agencies, or members of the business community. Ability to write speeches and articles for publication that conform to prescribed style and format. Ability to effectively present information to top management, public groups, and/or boards of directors.
REASONING ABILITY: Ability to define problems, collect data, establish facts, and draw valid conclusions. Ability to interpret an extensive variety of technical instructions in mathematical or diagram form.
CERTIFICATES, LICENSES, REGISTRATIONS: Valid driver's license, Professional Engineer Licensed in the State of Colorado (CE III) or Engineering Intern (CE II). A Certified Floodplain Manager (CFM) License is desirable.
PHYSICAL DEMANDS: The physical demands described here are representative of those that must be met by an employee to successfully perform the essential functions of this job. While performing the duties of this job, the employee is regularly required to sit and talk or hear. The employee frequently is required to stand; walk; and use hands to finger, handle, or feel. The employee is occasionally required to reach with hands and arms; climb or balance; and stoop, kneel, crouch, or crawl. The employee must regularly lift and/or move up to 10 pounds, frequently lift and/or move up to 25 pounds, and occasionally lift and/or move up to 50 pounds.
WORK ENVIRONMENT: Normal work environment is an office environment; however, the job does require field reconnaissance and construction site inspections. While performing the duties of this job, the employee is occasionally exposed to wet and/or humid conditions, fumes, machinery, traffic conditions, toxic or caustic chemicals, and outside weather conditions. The employee may occasionally have to traverse rough, irregular terrain. The noise level in the work environment is usually moderate.
Reasonable accommodations may be made to enable individuals with disabilities to perform the essential functions.
---
The City of Fort Collins will make reasonable accommodations for access to City services, programs and activities and will make special communication arrangements for persons with disabilities. Please call (970) 221-6535 for assistance.
Notice Regarding Medical and/or Recreational Marijuana Use: Because the possession and use of marijuana,
whether for medical use or otherwise, constitutes a federal offense and because the City is a drug free workplace, the City will not accommodate the medical
use of marijuana and enforces written policy prohibiting working for the City while marijuana is in the body. The fact that state law recognizes medical marijuana as a prescribed, or otherwise permitted, medication does not alter or otherwise change this policy. The City of Fort Collins is an Equal Opportunity Employer. Applicants are considered for positions for which they have applied without regard to gender (regardless of gender identity or gender expression), race, color, religion, creed, national origin, ancestry, age 40 years or older, marital status, disability, sexual orientation, genetic information, pregnancy or other characteristics protected by law. For the purpose of this City policy "sexual orientation" means a person's actual or perceived orientation toward heterosexuality, homosexuality, bisexuality.

BACKGROUND CHECK/MOTOR VEHICLE REPORT AND DRUG TEST REQUIRED WITHIN 48 HOURS OF OFFER.

Note: Some information in your application may be public information under the Colorado Open Records Act.
To apply for the City of Fort Collins Civil Engineer job, click here.
Job Announcement: WYDOT Aviation Project Engineer
Posted on Northern Colorado ASCE 12/13/18, job is open until filled.
ENEG10-09333-Aviation Project Engineer-Cheyenne
The Wyoming Department of Transportation (WYDOT) is an agency committed to providing a safe, high quality, and efficient transportation system for the State of Wyoming. We now seek a full-time Aviation Project Engineer located in Cheyenne, Wyoming.

The purpose of this position is to utilize engineering judgment and aviation industry knowledge to manage and/or provide oversight of aviation related projects in order to support safe and effective aviation infrastructure statewide, ensure appropriate and effective expenditure of public funds, and sustain the best value for the public investment.
For a longer description and the link to apply, click here.
Job Announcement: City of Greeley Stormwater Manager
The City's Stormwater Utility is one of nine divisions of the Public Works Department. The Stormwater group consists of ten employees including engineers, engineering technicians, and a stormwater quality administrator, asset manager, and floodplain administrator. The budget for Stormwater Utility Division in 2019 will be $6.4 million and there are over $200 million of identified current needs with an annual capital program of approximately $5 million.
The ideal candidate would possess:
7-10 years related experience;
2+ years of demonstrated effective supervisory/management experience of a team;
BS degree in Civil Engineering or related field desired; a combination of education/experience considered;
Proven communication skills to work effectively with City officials, board members, contractors, property owners, federal agencies and the general public;
Understanding of storm water infrastructure design and management;
Knowledge of all facets of floodplain management;
Knowledge of advanced principles and practices of municipal budget preparation and administration;
Ability to effectively communicate in writing, in person, one-on-one and in group settings;
A current Professional Engineer (PE) is preferred;
Certified Floodplain Manager Certification is also preferred, or will be expected to be earned within 1 year after hire.
Please click here to apply: https://www.governmentjobs.com/careers/greeley/jobs/2250886/stormwater-manager
May 2018 Meeting: Tunneling, Student Awards
We had a great presentation and exciting student awards at our May, 2018 meeting. Thanks to Robert Moore of Merrick for the photos!
Our presenter was Robin Dornfest, R.G., of Lithos Engineering. Robin stepped in at the last minute for our scheduled presenter, who could not be there. He presented on a tunnelling project with multiple challenges.
Project Build - Wind Turbines April 21, 2017
We had a great time at the High Plains Library in Greeley building wind turbines! Judi Koch with the Library had worked out how to build turbines from cups, little motors, and corks, and the kids were successful in building them.
Presidents and Governors Forum

Our incoming president for 2017-2018, Lance Heyer, PE, attended the Presidents and Governors Forum, held in Reston Virginia at ASCE headquarters. He brought back a number of great ideas for our Branch, including ideas on how to better utilize social media. He's in the 4th row, 6th from the right.
(Handy tip: if you want to make things bigger in your browser, hold your control key and push the + key. To make them smaller, use control and the - key.)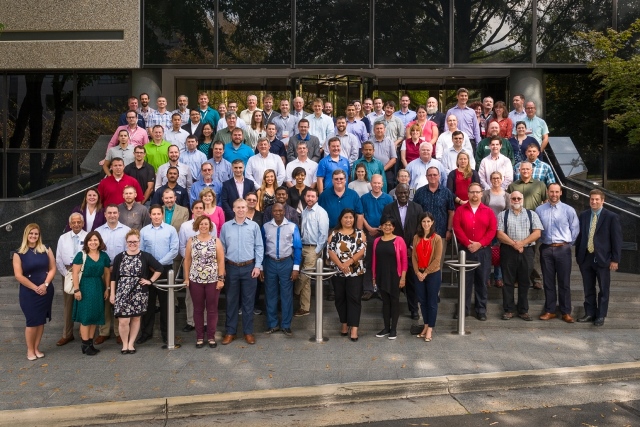 ---
CSU at Regionals
CSU sent about 30 students to the ASCE Student Regional Conference at the University of Utah and they did exceptionally well!

The students presenting a technical paper, Jenna Howard, and non-technical paper, Micah Gibbons, each placed third in the oral presentation part of the competition.

The steel bridge team placed second overall (out of 14 teams) earning themselves a spot at the national competition this summer. They finished first for economy and their display, second for construction speed, and third for stiffness and efficiency.

The concrete canoe team placed third overall (out of 11 teams). They were third for their design paper and final product, and second for oral presentation. The paddling teams braved some VERY chilly, rainy weather in the morning and placed third for the co-ed sprint.

CSU finished up third overall for the entire conference. It was great to see our students doing well and also supporting each other! CSU webpage photo gallery
---